Unsung Heroes is our series about the many members of the Fighting Game Community who work behind the scenes to make our community a vibrant, positive, exciting place to be. If you would like to submit your own Unsung Heroes, contact us here or @toptiergg.
---
John "Zansam" Amenta's philosophy in the Fighting Game Community is a common one. Like many fighting gamers, he's drawn to the rewarding feeling of progressing step by step into a larger world. "First," he says, "you're playing with your friends locally and you're just mashing buttons. And your friends are beating you and you're like, 'This sucks.' So you go into training mode or you do the trials [and think,] 'Now I can beat my friends, who are the better players?' So then you learn about the local scene. And now you're starting to watch videos [and you think] 'I want to enter a tournament, I want to travel for a tournament, I want to go to Evo.'"
Over the course of his ten years in the community, he's fulfilled his dream. Not only does he travel to events and attend the Evolution Championship Series, he's frequently onstage for the grand finals of majors. There's only one wrinkle: it's not as a competitor.
Chasing The Shine
Amenta's path began in Chicago, where two of his friends introduced him to the FGC in 2010. He quickly grew into his local scene, traveling to house sessions in Addison and formal tournaments in Northbrook, Brookfield, and Chicago proper. As he played, he developed a clean, buttoned-up style. In Street Fighter IV, he played Guile; in Tekken 6, which he describes as a "beautifully complicated" game, he played Asuka; and in Marvel vs. Capcom 3, his Nova/Frank West/Rocket Raccoon team was as dry as he could make it.
But he was never destined to become a top player. Part of what makes the FGC special in his mind is the intense yet ephemeral nature of the community's events. When he talks about watching the stage go up on Thursday and then come back down again on Sunday, he sounds like he's describing something from a fairy tale; for him, every fighting game major has some magic in it. Chasing championships would have ground the shine off of those experiences, so instead he decided to explore the world behind the scenes.
Glue Guy
After pitching in at his locals, Amenta's first experience working at a major came as a bracket runner at the eighth Ultimate Fighting Game Tournament. From there, he quickly rose through the ranks. His contributions to Combo Breaker (the successor to UFGT) and Frosty Faustings brought him to the attention of event staff from across the country. Soon, he was working as a stage manager with ten/o at events like Evo, Final Round, SoCal Regionals, Tekken World Tour, and CEO.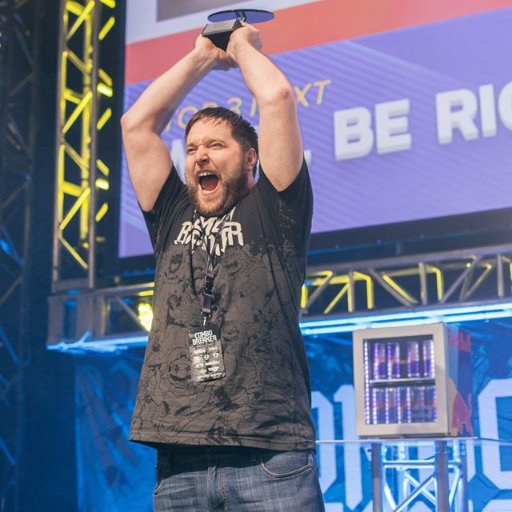 In the same way that top players proceed step by step through the gates of the FGC, Amenta went "from pot monster to somewhat competitive to production person." While your favorite players are sweating under the spotlights, he's hustling behind the scenes to make sure that the show goes off without a hitch. As he describes it, stage management is the "glue" that holds the production together. When he works an event, he makes sure that players get on and off the stage properly; he communicates key information to streamers and commentators; he monitors the pace of the brackets; and does whatever else it takes to keep the engine of the tournament running smoothly.
Naturally, some days are easier than others. But the payoff is always worth it. "It's Sunday's finals, it's top eight, most of the fires [have] finally died down. You just get to sit in chairs together and watch two of the best Tekken players in the world go slug it out in grand finals. And you're just sitting on the stage, and you're just in this great moment of zen – of, like, 'Look at what we've created'…It's beautiful."
Love And Grace
"I can't ask for anything more," he says of his role. As an occasional production professional, he gets to travel; watch top-level play up close; and, best of all, bask in the radically egalitarian positivity of the FGC. "I like the people [and] I like being a part of the environment," he says. "Anybody can sign up…You can put your quarter up, and if you're better than that person that day, it doesn't matter [who they are], they're going to losers' and you're advancing. I love that mentality."
It's been a long time since he had the chance to experience it in person. With the spread of COVID-19, most fighting game events entered a period of hibernation that they have yet to emerge from. Still, he firmly believes that the community will bounce back. And when it does, he hopes that players extend their positivity to their event workers and "give Tournament Organizers all the grace [they] can."
After all, players aren't the only ones who dream of taking the next step. As the FGC gets back into gear, there will be more bracket runners, stage managers, and TOs who are looking for their chance to make their mark. And as Amenta's own story shows, when people get that chance, they can take the entire community to the next level.
To support Amenta and keep up with his work, follow him on Twitter.
---
Eli Horowitz lives in Pittsburgh, PA. His first novel, Bodied, is set in the FGC, and it's been getting rave reviews from the community. Pick up your copy here, then follow him on Twitter for memes, jokes, highlights, and overall FGC positivity.
---
---
---