Unsung Heroes is our series about the many members of the Fighting Game Community who work behind the scenes to make our community a vibrant, positive, exciting place to be. If you would like to submit your own Unsung Heroes, contact us here or @toptiergg.
---
In 2019, Arslan "Arslan Ash" Siddique took the world by storm. The Pakistani Tekken player won his main game at both Evolution Japan and the Evolution Championship Series, thereby establishing both himself and his country as a major presence in the global Tekken scene. Siddique quickly became a household name in the Fighting Game Community. Even now, a full year later, people wonder who will become "the next Arslan Ash."
But he didn't do it alone. Strong competitors only grow out of strong communities, and Siddique's scene has deep, powerful roots that go all the way back to the release of Street Fighter II. One of those roots can be found in the form of Kashif "KillingHawk" Rasheed, a one-time champion who is now affectionately known as Pakistan's "FGC grandpa." This is his story.
The Nature Of Skill And Luck
"I have given all my life to arcade games and the FGC," he begins. When a hundred and twenty Pakistani fighting game players came together in 1992 to compete in Street Fighter II: Champion Edition, Rasheed was the one who came out on top. Incredibly, he would go on to win another sixteen nationals across various Street Fighter, Fatal Fury, Art of Fighting, and King of Fighters titles.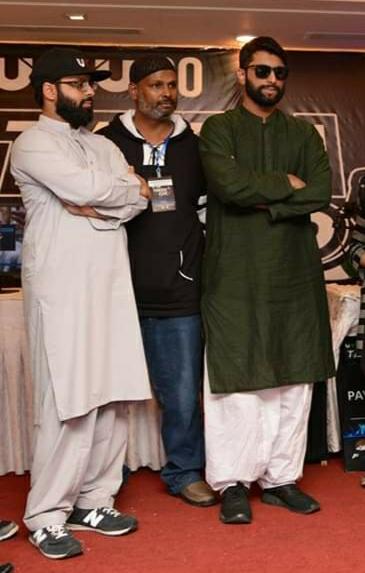 Though Pakistan's FGC would continue to fly under the radar for many years, it seemed as though Rasheed had positioned himself perfectly to step into the global spotlight. But in 2001, his fate was taken out of his hands. After winning a tournament in Karachi, Pakistan's largest city, he and a friend were making the long drive back north towards their home in Rawalpindi when another driver struck their car and knocked them off the road. The date and time are etched into his memory, and he recalls them as if reciting his own name: "the 5th of May, 2001, at 6:20pm."
For Rasheed, the crash effectively ended his career as a top competitor. It would take him ten years to recover from the injuries he sustained to his head, torso, and knees. Even now, he still feels lingering effects in his shoulders. In a community that's centered on displays of skill, it's a sobering reminder that all of us are vulnerable to forces beyond our control.
The Nature Of Community And Love
Yet there are positive influences on our lives as well. For Rasheed, community was the force that helped to save him. "After 10 years, my old FGC fellows brought me back into the scene. I started playing Tekken Tag Tournament 2," and from there he became a tournament organizer, community manager, coach, and content creator for the Pakistani Tekken scene.
As part of a local company called GameOne ESports, Rasheed is doing everything in his power to make sure that Pakistan is known for more than just Arslan Ash. He and his colleagues put on their first major event, Grand Masters Championship, in 2010. Since then, they've grown to the point where their Takra Cup (co-organized with UYU GO and Unequalled Media) was a Tekken World Tour event in 2019. GameOne has also branched out into online events, but Rasheed is hopeful that the 2020 Takra Cup can still take place this October as originally planned. "We will try hard till our final breath," he says.
In the meantime, he's still playing Tekken, Street Fighter, and King of Fighters for fun, as well as a healthy mix of action-adventure titles. Though his days as a competitor are behind him, "I know I have lots of responsibilities on my shoulders regarding Pakistan's FGC, so I cannot quit the scene." This is a testament to the love that fighting games can bring into the world. When Rasheed was at a low point, his community lifted him up. Now, he's taking that same community on his aching shoulders and striving to lift them in turn. His goal is to make Pakistan a regular home for international events, and he won't stop pushing until that happens. "I'm working hard for my FGC," he says. "And I love my whole gaming community."
To learn more about the Pakistani FGC, check out GameOne's official website and follow them on Twitter, Twitch, Facebook, and YouTube. Then follow Rasheed himself on Twitter so that you can see his hard work for yourself.
---
Eli Horowitz (@BODIEDnovel) lives in Pittsburgh, PA. Learn more about his writing – including his FGC novel – at his official website.
---
---
---