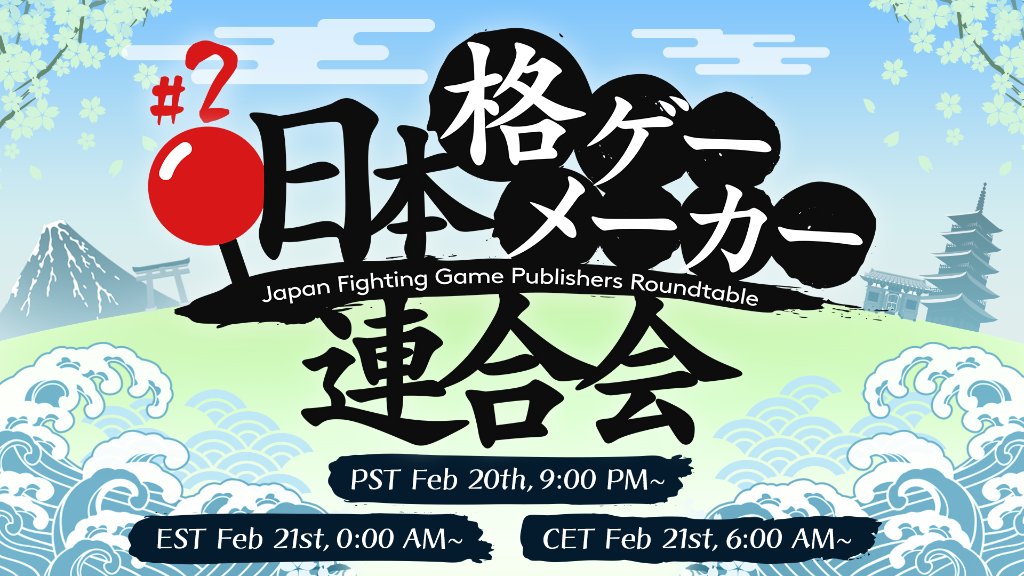 The second Japan Fighting Game Publishers Round Table has been announced!
Developers Bandai Namco, Arc System Works, SNK, Capcom, and Arika will be coming together on February 20th at 9pm PST (12AM EST, 6AM CET) to discuss about their work on their projects and fighting games development.
The last Roundtable was a big hit with the Fighting Game Community as they covered a lot of topics like cross platform play, player experience, and the simplification of their games. We also saw some hype announcements like FEXL getting rollback and character reveals for SCVI and GG Strive.
The participants that are confirmed are Daisuke Ishiwatari (Guilty Gear series general director), Toshimichi Mori (BlazBlue series producer), Akira Katano (Guilty Gear: Strive development director) who will talk about Guilty Gear Strive. Katsuhiro Harada & Naoya Yasuda (Esports Producer) will be present from Bandai Namco. SNK Chief Producer Yasuyuki Oda will be attending to rep SNK. No word yet who will be attending from the Capcom Side.
We're excited to see what the crew talks about and the new things they have in store for the community!
You can watch on several channels such as the Bandai Namco and Arcsys Twitch channels.
---
---
---