In 2008, the Fighting Game Community had more energy that it knew what to do with. The passion was there. But neither the industry nor the infrastructure were advanced enough to properly support the community. That summer, the headliners at the Evolution Championship Series were all at least seven years old. Live-streaming hadn't yet hit the mainstream, and Twitch was still a gleam in the eye of a small, new service called Justin.tv. Even YouTube was a hit-and-miss proposition: the official evo2kvids YouTube channel wouldn't upload its first match footage for another two years.
For most competitive FGCers, tournaments still had a distinctly raw feel. "Most of us were used to sleeping on the floor with nineteen other dudes in a tiny [hotel] room or someone's house," recalls Ari "fLoE" Weintraub. "Evos capped out at like 400 people. And at Evo and other tourneys, everyone there [was] a player…Doing this as a job was always [just a] dream. I had spent ten-plus years at this point traveling to win a tournament and hopefully break even if not [to still] lose money."
By 2008, Weintraub was firmly established as one of the top players in the FGC. He'd taken third place in Soulcalibur II at Evo 2003 and had become a monster in his local Chicago scene. But he was becoming listless. The scene was "getting so stale I literally didn't even go to Evo 2008 – one of the only two I've missed since B4 [in 2000]." He'd begun to feel "that I 'picked the wrong game' [because] I would see StarCraft blow up in Korea or Halo with [Major League Gaming]." For all the promise of the FGC, the scene was still small, overlooked, and, as a result, cash-poor. But all of that was about to change.
GameStop Steps Up
Just before the 2009 home release of Street Fighter IV came an incredible announcement: the retail chain GameStop had partnered with Evo and Capcom to host a four-tiered, nation-wide Street Fighter IV championship. GameStop would host events at more than twenty-four hundred stores, with the winners moving up through District and Regional levels to earn a spot in the Finals.1
Some FGCers stayed away from the event, and a few even tried to organize a boycott. (Bizarrely, the tournament organizers required all players to use a gamepad rather than a traditional joystick, which rubbed some competitors the wrong way.) But they were in a distinct minority: all told, over 100,000 players entered.2 Weintraub wasn't about to let this chance pass him by. He tore through the Chicago-area competition and earned himself a trip to San Francisco for the finals, along with representatives from Texas, California, Georgia, New York City, New York state, Arizona, Washington, Kentucky, Minnesota, New Jersey, Florida, Louisiana, Maryland, and Ohio.3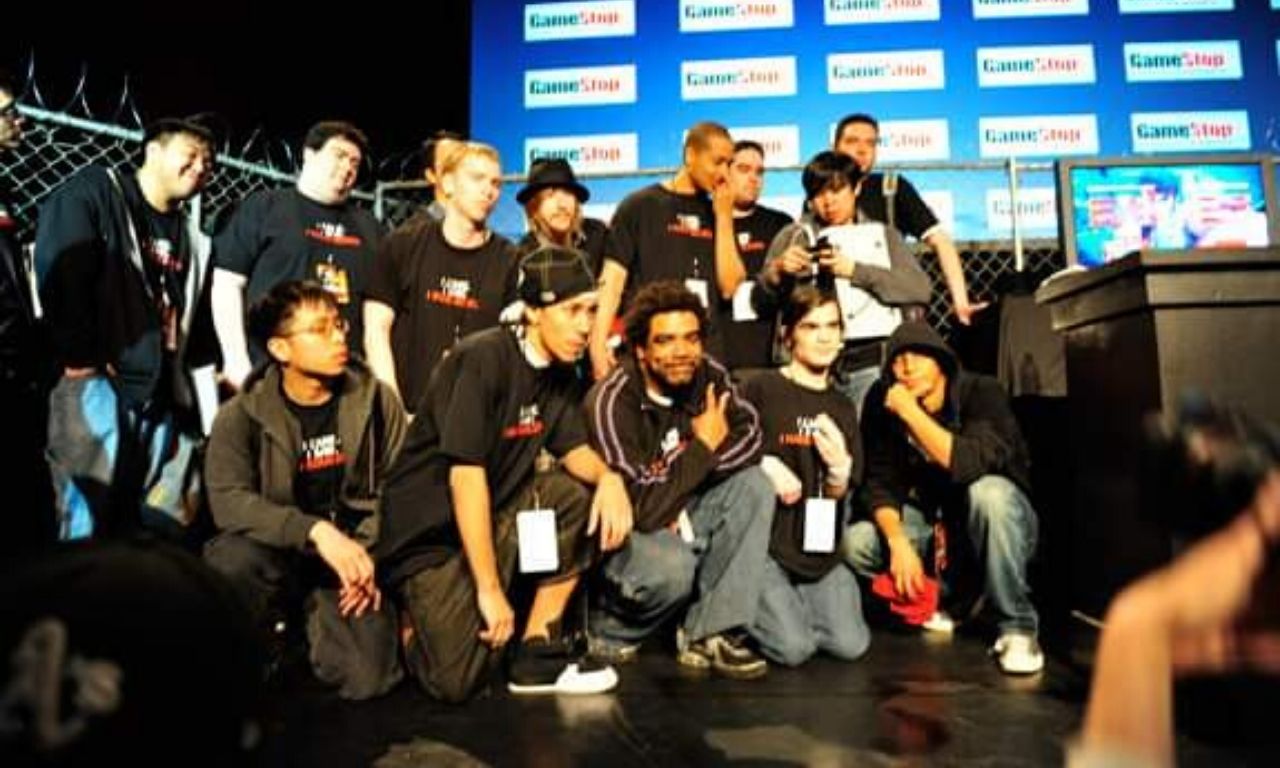 Many of the finalists were unknown on the national level. Others had already made names for themselves, such as Weintraub, Mike Ross, Jason "AfroCole" Cole, and the eventual US champion, Justin Wong. The US representatives were also joined by Lee "Poongko" Chung Gon, who won the Korean version of the tournament series; Iyo, a Dhalsim player who won the Japanese series; and special invitee Daigo Umehara, who would go on to defeat Wong in the event's international exhibition.4
But no matter how well-traveled the competitors were, none of them had ever encountered anything like the scene that they would step into when they arrived in northern California.
The VIP Treatment
The sixteen Region-level winners "ended up being flown out to San Francisco for the finals," Weintraub says. "Already this was a big deal because this was before the days of sponsors or anything." The next surprise was that "we had our own hotel rooms," meaning no more nights sleeping on the floor or crashing on a local player's couch.
And the hits just kept coming. "They had this little gift bag for us with, like, a shirt and some other GameStop swag." All sixteen finalists also received MadCatz gamepads and joysticks. "The next day we all got on this bus to take us to the venue and when we got to this random huge warehouse [i.e., the Fort Mason Festival Pavilion] we saw a line around the block. At this point we already knew that something special was happening because these are all people here just to watch. As we walked by to the entrance we heard cheers and people wanting to take pictures and ask for autographs from us, which was completely foreign to all of us." Up until that moment, every FGC event was like a college or high school reunion: "Everyone knew everyone. That's why it was the Fighting Game Community. This was an event for the masses."
And it wasn't just the crowds. Chain-link fences topped with fake barbed wire bordered the main stage. Yoshinori Ono and Seth Killian were there. There was a cosplay contest. Supreme Soul, a freestyle dance group that'd recently made waves on America's Best Dance Crew, put on a show of their own.5 In terms of production, it was literally years ahead of anything that the FGC had ever known.
Bright Lights, Big Dreams
Of course, some people handled the spotlight better than others. Weintraub remembers talking with his fellow competitors and "joking how [the arena was] way too big and why would they need so much space." But then he got onstage for a match, "looked behind me at the sea of people, and freaked out and forgot how to play."
Yet even with the added pressure and his disappointing performance, the Chicago native was happy. "I knew the dark ages were over and we were in for a ride." For the community, that ride isn't over. We still argue over the proper balance between esports and community; we still bemoan the inexplicable decisions that corporate sponsors sometimes make; and we still marvel at how far we've come.
For Weintraub, the journey has been one of personal growth. At the time, "I was 100% excited for the future…To finally see some real progress in the community excited all of us." But he also "realized that day if I was going to keep taking this whole fighting game thing seriously, I was going to have to come out of my shell."
In doing so, he earned an Evil Geniuses sponsorship, co-hosted Capcom Pro Talk, and has since become a successful streamer. Meanwhile, the community at large has thrived, pulling in millions of viewers and launching a barrage of professional world tours. The 2009 GameStop tournament series doesn't have the same reputation as Evo Moment 37, and it isn't as well-known as its modern successors. But as Weintraub says, "That tournament changed everything."
---
1http://news.gamestop.com/news-releases/news-release-details/gamestop-kicks-street-fighter-iv-nationwide-tournament
2https://www.polygon.com/2012/10/23/3544584/fighting-to-the-top
3https://pixelatedgeek.com/2009/04/street-fighter-4-national-tournament-in-san-francisco-results/
4https://web.archive.org/web/20090422171412/http://www.kineda.com/justin-wong-wins-sfiv-national-tournament-and-daigo-wins-international-title/
5https://www.ign.com/articles/2009/04/21/gamestop-and-capcom-confirm-winner-of-the-street-fighter-iv-national-championship, https://v1.escapistmagazine.com/news/view/91070-Daigo-Umehara-Is-First-SF4-World-Champion
---
---
---